Experience the outstanding convenience of Forex trading with Metatrader 4 on your Android-driven device! Forex trading has never been easier with MT4 Mobile for Android!
You can enjoy a complete set of trade orders, trading history, interactive charts and the widest variety of supported devices – all that is MetaTrader 4 for Android. Wherever you are and whatever you do, Forex will always be with you!
1. Go to Google PlayStore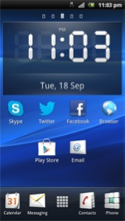 Tap your PlayStore icon and go to the Store.
2. Search for Metatrader 4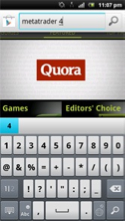 Type "Metatrader 4" in the store search field, the store will find the Metatrader 4 android application for you.
3. Find Metatrader 4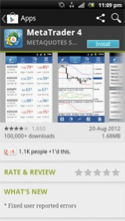 Click on search results and you will see the app window like this.
4. Download the app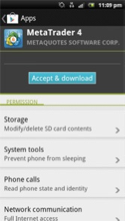 Click on the Install button and then on the accept and download button to start downloading the application.
5. Wait for the app to download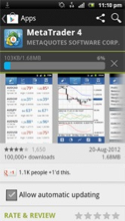 If you have done everything right so far, you will see a screen like this.
6. Run the app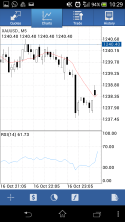 After your Metatrader 4 for Android is installed onto your device you can open a new account or login with your existing account
7. Find ForexCFDs servers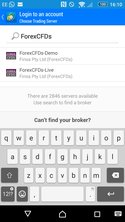 Type "ForexCFDs" into the server search bar and, after the servers are found, select live or demo server (live – for live account, demo – for demo accounts).
8. Login to your account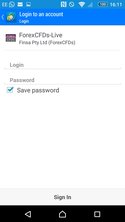 Enter your MT4 login and password to login to your account
9. Enjoy your Metatrader 4!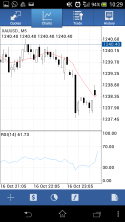 If you are doing everything right, you will be logged into your account. From here you can enjoy Metatrader 4 trading app on your Android-driven device!